---
Book Best Yoga Schools, Yoga Courses, and Yoga Retreats.
---
Yoga & Meditation are the boons that our ancient great sages & Guru gave to our society for the wellness & good health. Yoga & Meditation are almost 10000 yrs old practice.  Yoga is a practice that balanced the system of the body. It gives a spiritual liberation to body, mind & soul. It is also a panacea against various deadly diseases from cancer to the stress. On the other hand, Meditation practice makes life mindful & aware.
Yoga & Meditation Retreats are the best way to rejuvenate your body mind & soul in a short period of time.
Atmabodha is one of the best online destinations for the Yoga & Meditation Seekers but it is very important to choose wisely the Yoga Schools, Spiritual Meditation Ashrams, Yoga & Meditation Retreats. At Atmabodha.com we have filtered out the best Yoga Schools, Meditation Retreats, Yoga Ashrams, Yoga therapy centers, Spiritual Ashrams, Yoga trainers of the world.
So, If you are looking for a lifetime experience in Yoga & Meditation? Atmabodha.com offers you the best online yoga listings platform for Yoga Schools, Meditation retreats, Yoga certification courses in India, Yoga Ashrams, Yoga Holidays, Yoga Travel.  You can directly send any inquiries regarding booking or any other information about Yoga & Meditation Retreats centers, ashrams, schools etc. At Atmabodha.com it is very easy to get complete information, well-drafted itinerary & hassle free booking of Yoga Schools, Yoga & Meditation Spiritual Retreats, Ashrams, Yoga Courses, Yoga Therapy, Yoga Holidays & Personal Yoga Trainers in India.
---
Vinyasa Yoga Academy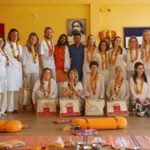 At VYA our goal is to provide Seekers with unique spiritual, religious, and mind/body experiences by applying our expertise in Vedanta philosophy, and yoga. We are a young, ambitious and modern-day ashram that differentiates itself from others by offering not just practices, but also understanding, context, meaning, and relevance of what we teach. The product we provide must also be the result you require, and when your program concludes, it is our hope that you leave with a full mystical comprehension of your practical experience.
Vinyasa Yoga Academy offers the 200 Hours Yoga Teacher Training in Rishikesh, 300 Hours Yoga Teacher Training Course in Rishikesh, 500 Hours Yoga Teacher Training Courses in Rishikesh, India as well 100 Hour Yoga Teacher Training , 4 and 6 Days Yoga & Meditation Retreats in Rishikesh for every one interested beginners, intermediate and advance Yoga Students.
Send Message to listing owner
Vinyasa Yoga Academy