---
Book Best Yoga Schools, Yoga Courses, and Yoga Retreats.
---
Yoga & Meditation are the boons that our ancient great sages & Guru gave to our society for the wellness & good health. Yoga & Meditation are almost 10000 yrs old practice.  Yoga is a practice that balanced the system of the body. It gives a spiritual liberation to body, mind & soul. It is also a panacea against various deadly diseases from cancer to the stress. On the other hand, Meditation practice makes life mindful & aware.
Yoga & Meditation Retreats are the best way to rejuvenate your body mind & soul in a short period of time.
Atmabodha is one of the best online destinations for the Yoga & Meditation Seekers but it is very important to choose wisely the Yoga Schools, Spiritual Meditation Ashrams, Yoga & Meditation Retreats. At Atmabodha.com we have filtered out the best Yoga Schools, Meditation Retreats, Yoga Ashrams, Yoga therapy centers, Spiritual Ashrams, Yoga trainers of the world.
So, If you are looking for a lifetime experience in Yoga & Meditation? Atmabodha.com offers you the best online yoga listings platform for Yoga Schools, Meditation retreats, Yoga certification courses in India, Yoga Ashrams, Yoga Holidays, Yoga Travel.  You can directly send any inquiries regarding booking or any other information about Yoga & Meditation Retreats centers, ashrams, schools etc. At Atmabodha.com it is very easy to get complete information, well-drafted itinerary & hassle free booking of Yoga Schools, Yoga & Meditation Spiritual Retreats, Ashrams, Yoga Courses, Yoga Therapy, Yoga Holidays & Personal Yoga Trainers in India.
---
Iyengar Yogakshema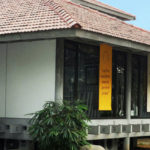 Yogakshema, Delhi NCR's only accredited Iyengar Yoga Center, was inaugurated by Padmabhushan Yogacharya BKS Iyengar on April 25, 2008 in the presence of Former Vice President of Indian Republic Mr. Bhairon Singh Shekhawt, Former Deputy Prime Minister of Indian Republic Mr. L K Advani, Former HRD & Science & Technology Minister Mr. Murli Manohar Joshi amongst other dignitaries. The building is aesthetically designed and unique in structure based on Japanese architechure and Egyption Golden proportions.

This state of the art Yoga Center is fully equipped with all the props and accessories used in Iyengar Yoga. There are two yoga halls with wooden floors, the larger of the two at ground level and the second one, in the basement which was inaugurated by Yogacharya Iyengar in 2011. The main hall has full-size windows which allow natural light to filter in and a view of the zen-inspired landscape outside.
There are separate changing rooms for men and women which include shower facilities, closets to hang clothes and lockers for valuables.
The Center houses a library of books on yoga and its ancillary subjects. There is a quiet sit-down reading space alongside the library as well as a small cafeteria which serves nutritious snacks after class.
The Heritage store in the basement offers various yoga related items for sale such as T-shirts and tights made of organic fabric, props, CDs, and videos.
Send Message to listing owner
Iyengar Yogakshema