Vedansha Institute of Vedic Science and alternative medicine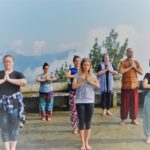 Vedansha – The Institute of vedic science and alternative medicine founded by Dr.S.Pandey Ji was established to provide the education in vedic science, to help human to controll their emotions, remove fears, to improve their life, to find himself in the society of modern technology, to open his power in order to feel harmony and happiness and provide holistic treatment, supporting programs with yogic and ayurvedic methods in common and non-curative diseases.

The founder, Yogachariya Dr. Sanjeev Pandey PhD, m.sc., (yoga therapy& naturopathy) is a himalayan yogi in 7-th generation. He keeps family and university tradition of yoga during his long teaching practice and provides education and supplementary treatment according to the high level of ancient and modern stand art of vedic science. Our institute accredited by international yoga alliance and alternative medical counsil Colcutta (india).
Course Includes :
1 t-shirt with the school symbol
2 excursions in Himalaya
3 daily vegetarian meals and beverages
26 nights accommodation
Cleansing kit
Full support during your stay at the institute and help provided 24 hours
Herbs suggestions for well-being
Mala string of beads energized by Ji Yogachariya and Dr. S.K.Pandey
Possibility to participate in on-line webinar before and after course
Short Aura check up
Short astrological consultation
Study materials, book, copybook, pen
Theoretical and practical skills
Yoga Alliance certificate upon completion
2 ayurvedic massages in our Ayurveda SPA
Wi-fi
200 Hours Yoga TTC Course Teaching Plan
Yoga-Philosophical Aspects:
Human Life: Meaning & Aim of Life.
Yoga – Introduction / it's origin & development.
Introduction of Patanjali's Yoga-Sutras.
Panch-Klesha (Five Causes Of Pain & Miseries) / causes of succsess and failure in Yoga
Yama, Niyama (social and personal rules and regulations) Asana (physical posture), Pranayama (breathing techniques), Pratyahara (withdrawal of the mind from the senses), Dharna (concentration), Dhayan (meditation), Samadhi (self-realization)
Phlosophy of mudra and bandha
Intriduction in Swara yoga
Yoga-Practical Aspects:
Asana: names in sanskrit & english, mening, correct alignment, variations & modifications
Natural Relaxation Asana
Natural standing Asana with External Rotations
Forward bending Asana
Backward Extensions
Spinal Twisting Asana
Inverted Asana
Balancing Asana
Surya-Namaskara
Meditation Asana
Thunder-Bolt (vajrasana) Group Asana
Lotus (Padmasana) Group Asana
Pranayama & Mudras
Introduction to Pranayama
Basic Pranayama Techniques & Benefits (Neti, Kapalabhati, Nadi Shodana primary plus basic level, Surya Bheda, Bastrika, Sheetali, Shetkari, Bhramari)
The pranic body
Parana and lifestyle
Breathe, health and pranayama
Breathing and life span
Kriyas (Body Cleansing Methods): (Neti, Kapalabhati)
Meditation
Standart Meditation Practice (Om Meditation, Trataka, Yoga Nidra, Sound meditation, Mantra meditation)
Mantra
Standard Mantras
Anatomy and physiology
Detailled explanation of muscular and skeletal system and their function during physical excersises
Yoga therapy/Ayurveda:
Detailled explanation of muscular and skeletal system and their function during physical excersises
Teaching Methodology:
Teaching standart concept of preparation of your own class with attention to needs of the clients of yoga studio
Special events:
Once pro week – mantra concert performed by students of TTC with the help of teachers and Stuff,
Once per two week – movie about Yoga/ Meditation/Ayurveda & other vedic scieneces
Once per two week – silent walk meditation
Once per two week – cooking hands-on workshop (Ayurvedic/Yogic/Indian/International)
Once per month- magic night &candle meditation
Once per month – full moon meditation
Book 200 Hours Yoga Teacher Training Rishikesh India
200 Hours Yoga Teacher Training Rishikesh India TIME TABLE
Time
Sessions
Explanation
5:00-6:00 am Wake up & Cleansing Taking shower, teeth brushing, shaving etc according to your needs
06:00 – 06:45 Shatkriya
(yogic cleansing with Jala neti (special technics of nose cleansing), pooja (mantra recitation & fire ceremony purification)
6:45-8:15 am Asana (Hatha or Ashtanga Style)
08:15-08:30 Pause & Herbal tea
08:30-09:30 Pranayama
09:30-10:30 Breakfast
10:30-11:30
Yoga Anatomy/Mantra classes-2 weeks/Asana Elignment Hatha/Ashtanga Style
11:30-12:30 Yoga Philosophy/Ayurveda/Teaching methodology
13:00-14:00 Lunch Special develloped accoording to season and nourishing need of the body
14:00-15:00 Free time Relax/sleep/self study/visit our library or visit our spa center and take procedure or take private class or consultation
15:00-16:00 Yoga Therapy /Ayurveda
16:00-17:00 Ashtanga Vinyasa/Hatha Yoga (Theory & Practice )
17:00-18:00 Yoga Nidra/ guided Meditation
18:30-19:30 Dinner
19:30-20:30 Satsang/Special Event
20:00-22:00 Free time & Self study
22:00-5:00 Sleep
Send Message to listing owner
Vedansha Institute of Vedic Science and alternative medicine