Spiritual Retreats Program in Croatia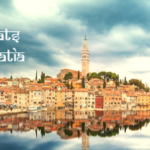 Enjoy sunny shore of Eastern Europe in our four days of Spiritual retreats program in Croatia
Enjoy sunny shore of Eastern Europe in our four days of Spiritual retreats program in Croatia on below-mentioned dates. Every retreat is offered to a small group of 8-10 participants.
What is this Spiritual Wellness Program all about?
Spiritual Prana retreat will be based on the philosophies of Ancient Indian Wisdom (Bhagavad Gita) and Rishi Patanjali's Yoga Sutras which will help you find your own inner self-rhythm. The retreat will be held in one of most beautiful luxury villa/chalet in Europe and will contain sessions of Yoga, Spiritual Insight through Bhagavad Gita and Meditation. This retreat will guide you towards a Spiritual Path, Inner Awakening, Union of Body and Soul and throughout the retreat you will be nourished with healthy 'Satvik-Yogic' Indian food. It will clear the concepts of Self-Knowing, Self-Realization, Slow down, Yoga philosophy and Spiritual way of living in everyday life.
Accommodation
All our participants get Single Person Occupancy in Luxurious private villas/chalets with en-suite in Europe. All standard amenities included. Exact address will be updated soon per retreat.
Highlights
Ancient Indian Wisdom (Bhagavad Gita Insight)
Meditation Practices
Meditation Philosophy
Yoga Practices
Yoga Philosophy
Group Discussion
Breakfast, Lunch, Dinner
Detox juices, fruits, and herbal teas are available throughout the day
4 nights' Accommodation
Group sizes the maximum participants in the group is 8 – 10 people
Styles
Ashtanga-Tristanga
Himalayan Yoga Tradition
Spiritual Insight through Bhagavad Gita
Self-Knowing
Meditation
Send Message to listing owner
Spiritual Retreats Program in Croatia